Presenting Xfce and Geany on conferences
Introduction
I'd thought it might be useful to share some information and experiences about the "public relationship" work happening in Germany for the Xfce and Geany projects.
In the last years (since about 2010), a few guys of the German Xfce community organized Xfce presentation booths at various Linux conferences (Froscon near Cologne, OpenRheinRuhr in Oberhausen, Chemnitzer Linux Tage in Chemnitz). In the meantime, these guys (including me) perform also booths for Geany and Midori next to the Xfce booth, simply because we are all the same people knowing the projects quite well.
Performing such a booth, being available for visitors to answer their questions and present them another desktop environment than KDE or Gnome, is mostly just fun and helpful but also very interesting.
User Feedback
The switch to KDE4 and later Gnome3 was not only noticeable on the net in getting new Xfce users but also at the booths where people just came along to tell they switched to Xfce because it is the way it is and just easy and working. This is still happening. Yay. On the last event, two weeks ago, a visitor asked me whether Xfce will stay the way it is, especially regarding drastically changing the user experience like it happened in other big desktop environments. I remembered this visitor as he asked me the same question on the same event a year ago. And he, and me, was happy that I could give the same answer as last year: there are no plans to change anything in the user experience as drastically as other DEs did to loose long-time users.
Another nice fact about such booths is that visitors are just happy to have someone to ask a question about a small problem they have in Xfce or just looking for an idea to do something. And then you just start thinking about the problem, talking to people and mostly afterwards you find a solution or at least a workaround.
The Material
There is actually not much material we have except the following:
Posters: one poster per project with basic information for passing visitors. The posters were designed and printed by us (Xfce really needs a working foundation for financial purposes like being able to receive donations and use donated money for such posters and other PR stuff)

Stickers: we usually have stickers for Xfce, Geany and Midori on the table for visitors to take for free. The Geany stickers were mostly paid from donated money (thanks!) but again, for Xfce we need a working foundation.

Hand-knitted Xfce mouse: the coolest thing is our hand-knitted Xfce mouse by Birgit Hüsken (stricktux.de). Birgit was so keen to design a pattern for a knitted Xfce mouse and as far as I know there are only very few instances of these special mice available.

An "Enchanted Lamp": Frank once bought this lamp and now we use it as recognition sign on the Geany booth
Pictures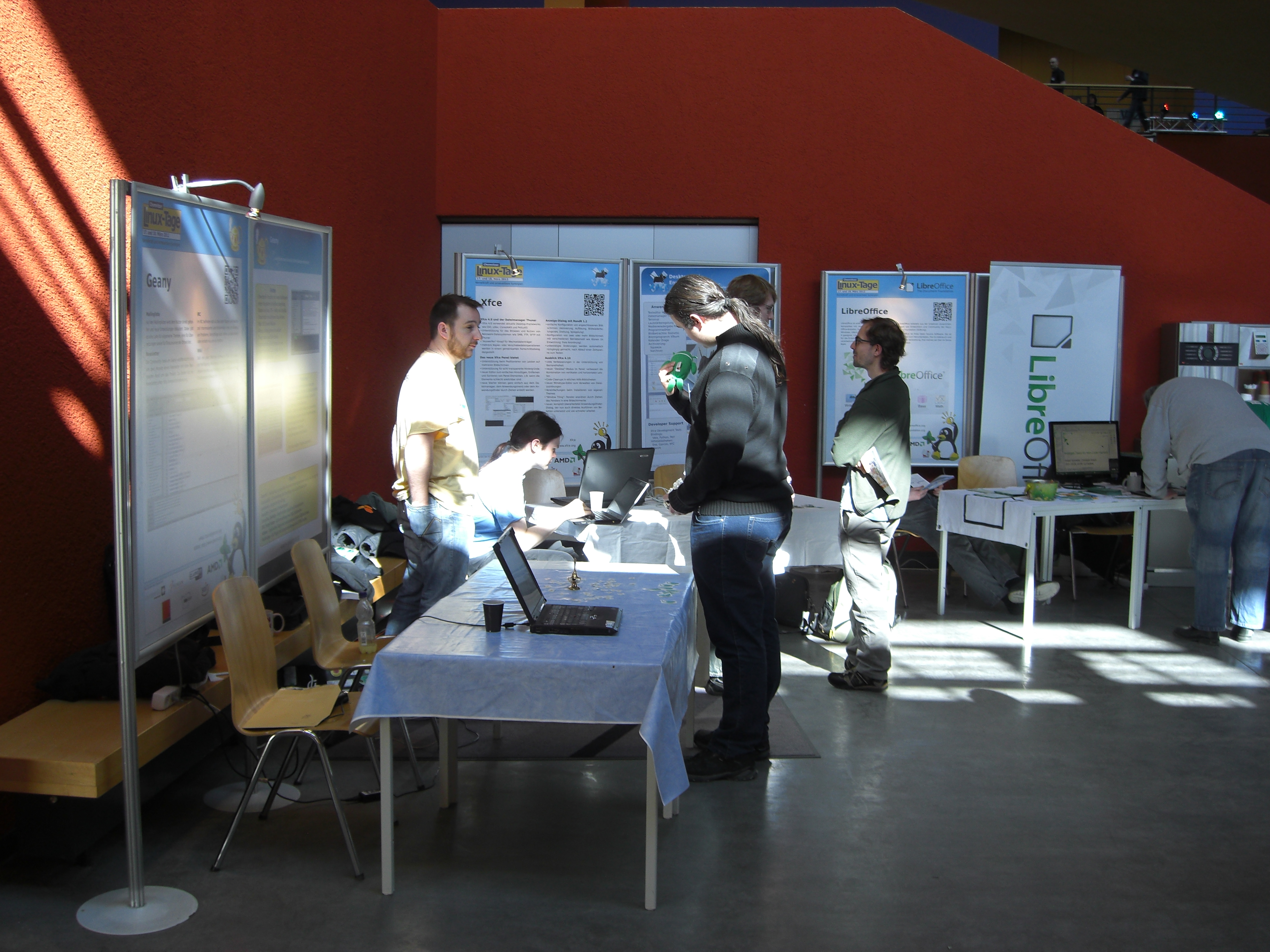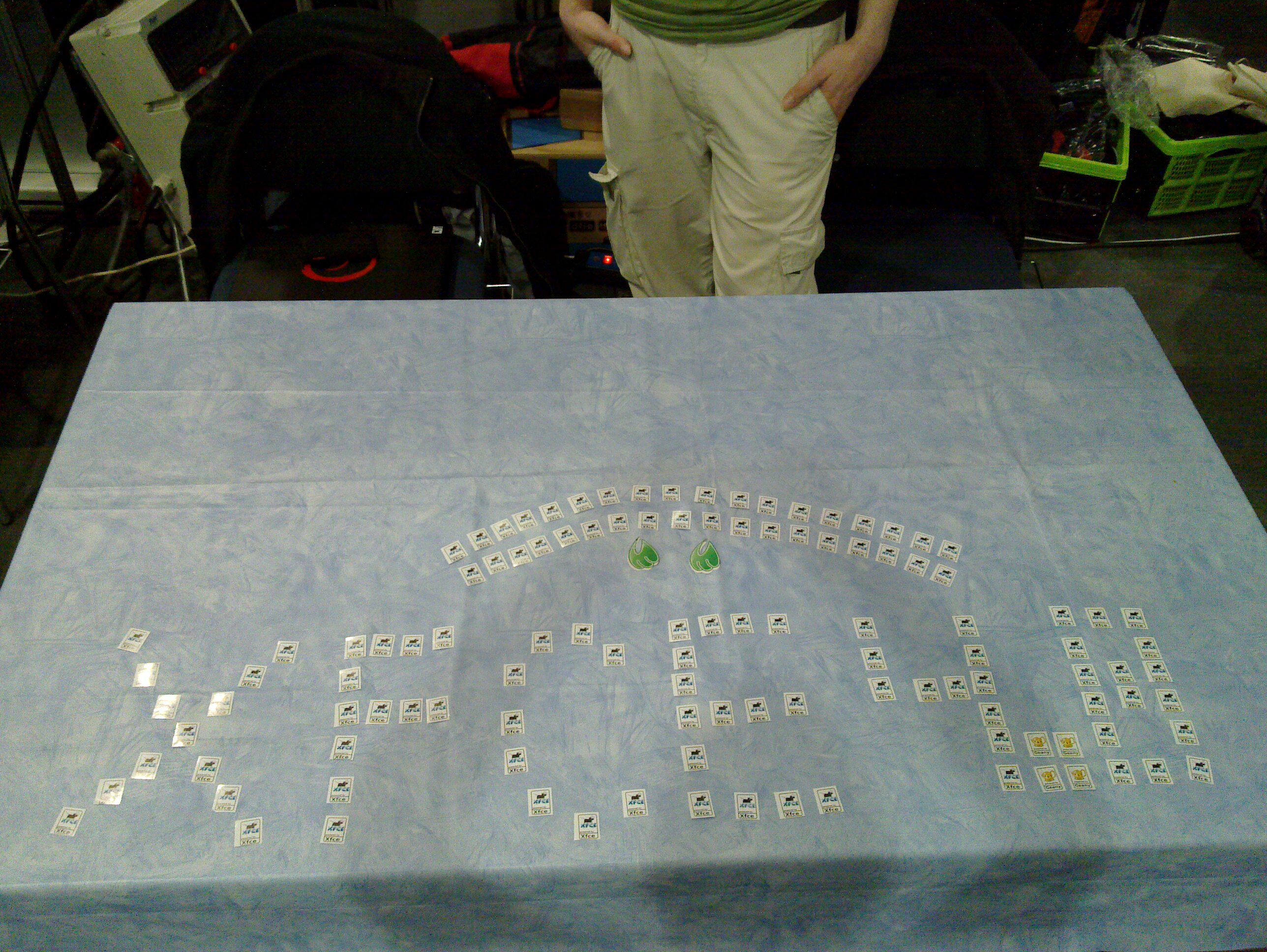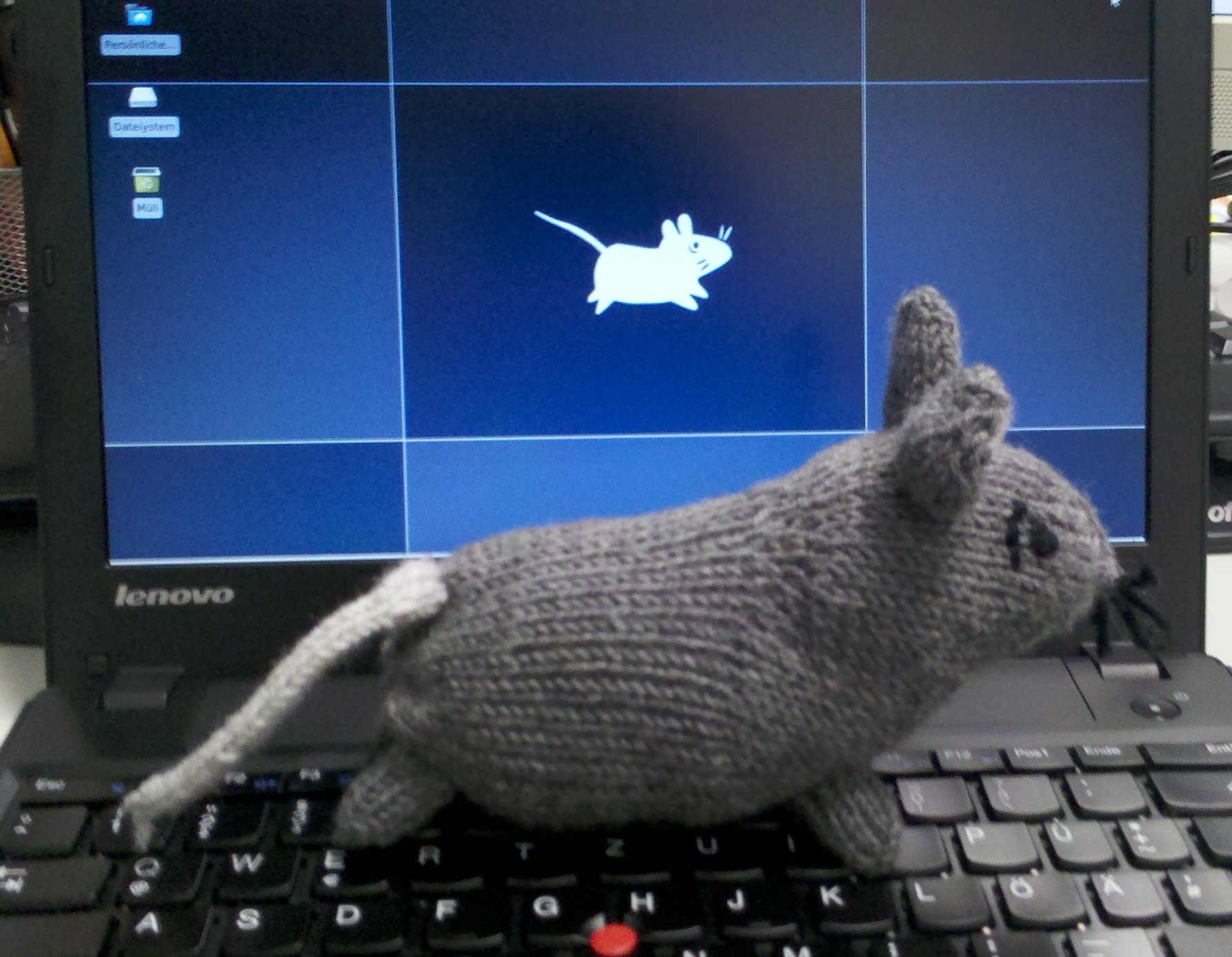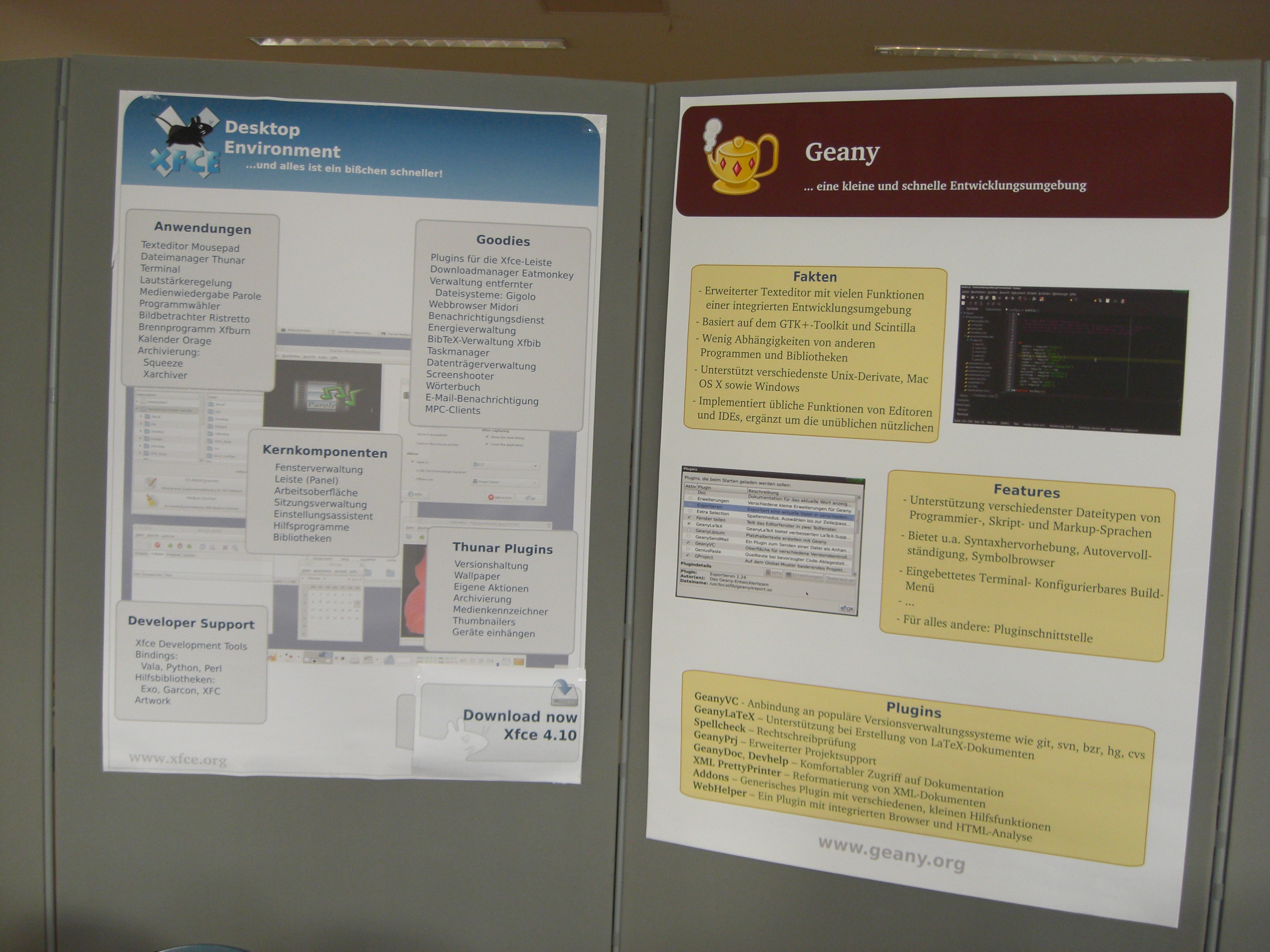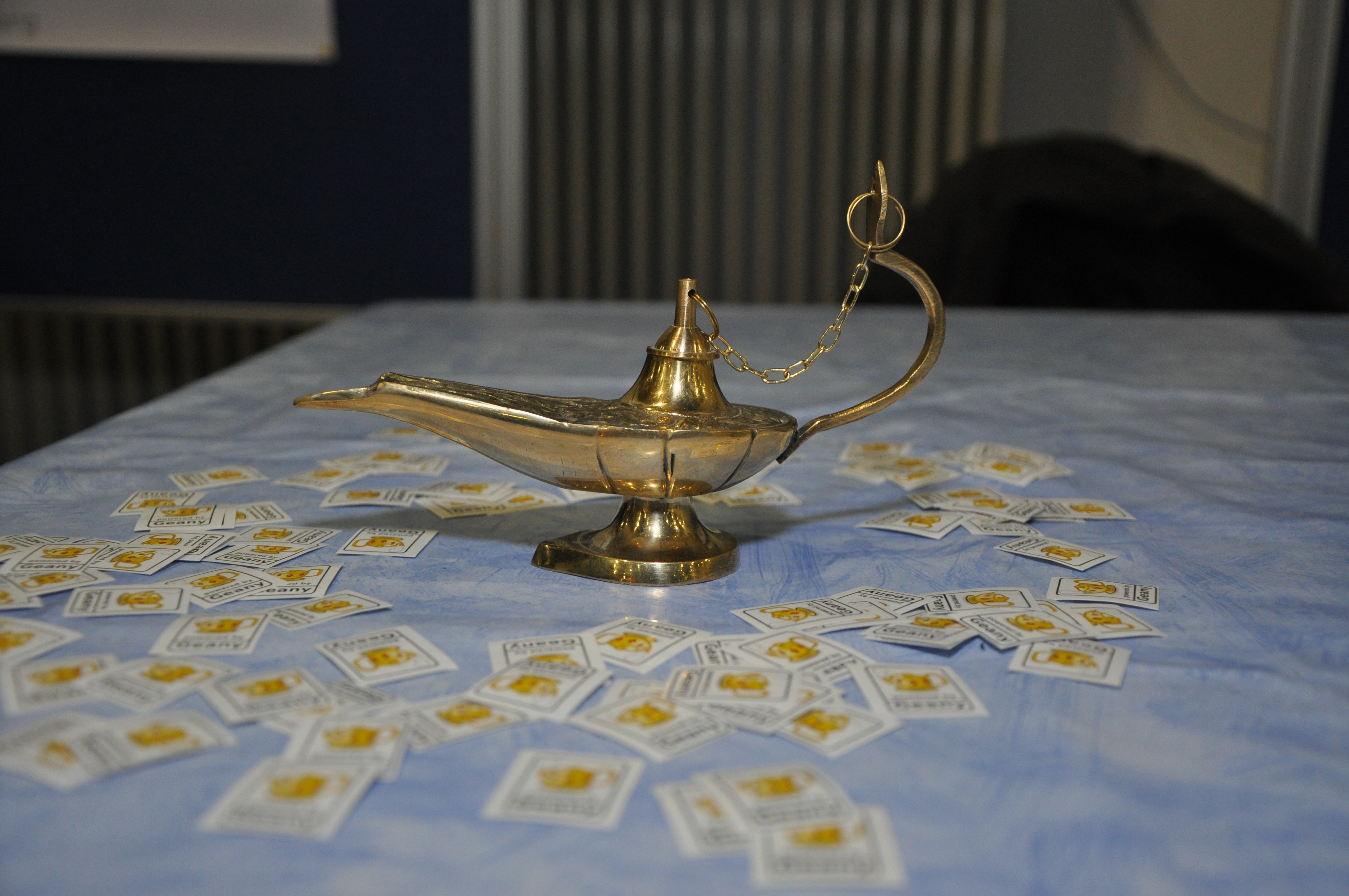 The Future
This is just a little of the experiences we made in the past, let's see what will come next. We are going to join the upcoming LinuxDays in Prague (CZ) in early October and afterwards we'll present Xfce and Geany again on the OpenRheinRuhr in Oberhausen in November, both events with cool new posters!